How to Create a Free WordPress Blog or Website in 5 Minutes (Tutorial with Images)
Reading Time:
3
mins
Getting many questions from people asking me to tell how to create a free WordPress blog. Today I will show you how you can easily start a blog or a website with the world's most popular tool called WordPress and it is totally Free!
Go to WordPress.com and click on "start a blog" button in the next step you will be able to choose if you want a website or blog.
Step 2: Register
Create an account and login.
Step 3: What kind of site?
Now you can choose if you want to start:
Blog
Business
Professional
Online Store
Blog is perfect for bloggers. Business for a business or brand website. Professional is good for freelancers and other self-employed people like photographer. Online store if you want to sell products online (but this option is not free and you will need a subscription).
I will choose "blog" in this example but you can choose another option of you need.
Step 4: The Niche
What kind of blog do you want to create? It will simply allow WordPress to give you some good design suggestions and examples that work best with your niche but you can always change it later so don't think too much here.
I will choose "travel" in this example but you can choose another option of you need.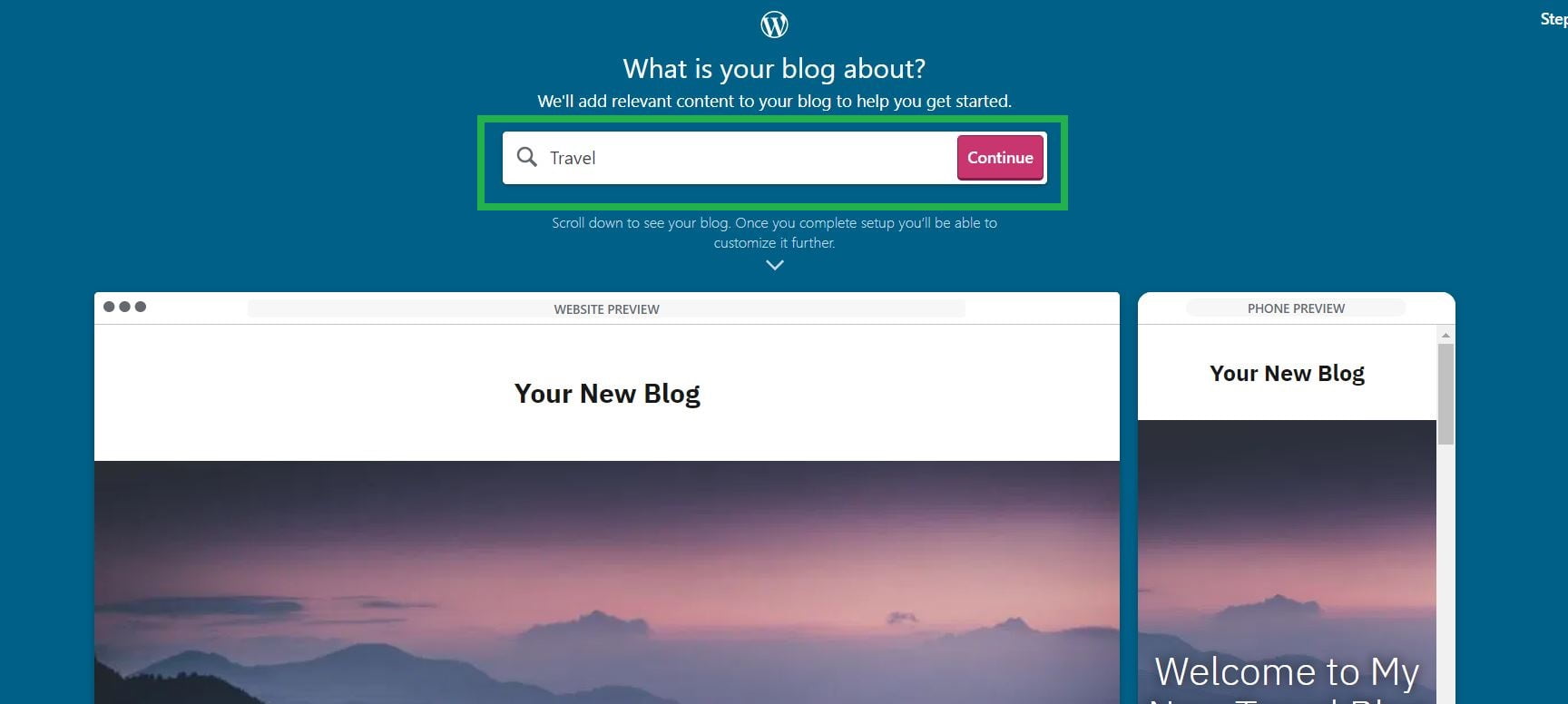 It shows me now an example with the structure how my blog will look like. Don't worry you will change colors, texts and so on later. It simply shows an example right now.
Click "Continue"
Step 5: Name
It asks you now to give it a name. You can choose any and change it later if you need.
Let's say a girl called Caroline wants to create a travel blog. I will give it a name here "Caroline's Travel Blog" and click "Continue"
Step 6: Domain
It asks you now to enter a domain (also knows as address or url) so I other people can visit your blog. For example the domain of my blog is www.adventurerinyou.com so you need to choose a domain for your blog here now.
If I enter Carolines then the WordPress show me following results. Some are premium like www.carolines.info and requires a subscription but some are free like www.carolines.travel.blog. So try to enter different domains here and see what results you will get.
I will choose a free option here "carolines.travel.blog" (I canceled it later so the name is free now if someone wants it)
Step 7: Free or Paid?
It will now ask you if you want to create a Free or Paid (you can always upgrade it later):
Free site (see the link, marked it on the image) if you want a basic website or blog for free.
Personal gives you a premium domain name and an email with your own domain name. Good option for bloggers.
Premium gives you a lot of nice functions, tools and analytics. That one is good for freelancers.
Business for a business or brand website where you need a lot of storage, advanced themes and functions.
eCommerce for online stores.
I choose "free site" here
Step 8: Created!
Your website or blog is now created. Fill it with some basic information like heading, descriptions, images and so on.
I will enter some basic information here now on my website
Step 9: Launch (put it online)
Now it is time to go back to home menu in the left sidebar and click on "Launch" to publish it and make it online so everyone will see it.
Click on "Launch site"
Step 10: Choose a Theme
Theme is your design, style and colors. Structure as well. The standard theme is very boring so you can go to "Themes" option in the left sidebar and choose a better one.
Click on "themes"
Step 11: Activate Theme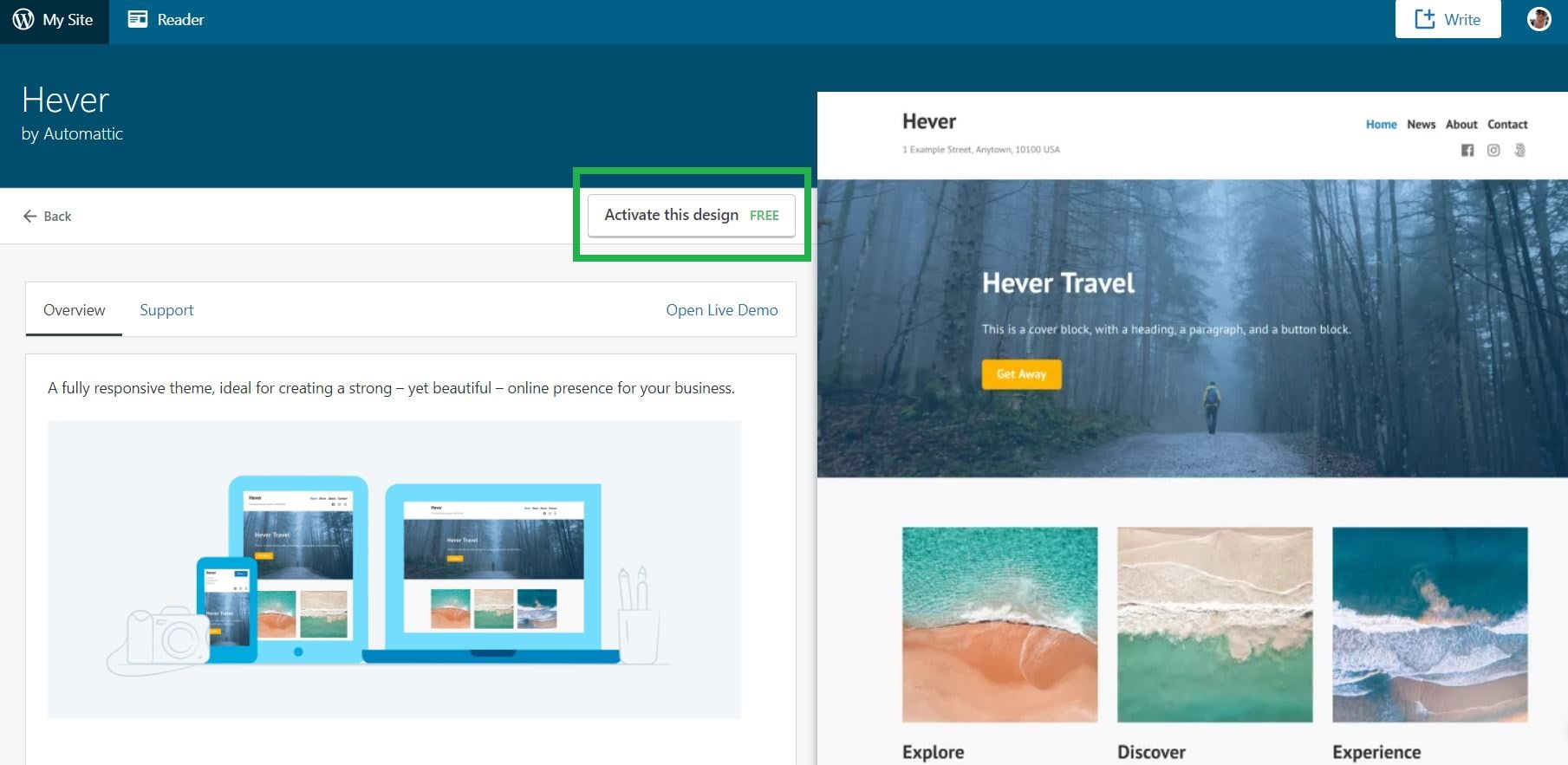 I like the Hever theme because I think it will be perfect for my new travel blog so I click on it and activate but you can choose any other you like.
Click "activate this design"
Step 12: Editing
Editing your website or blog is very easy. You simply click on section you want to edit and enter new texts there. Don't forget to click on "Update" when you are done. You also "preview" your changes before your publish.
Congratulations to your new blog or website!
PS: JetPack
Sometimes you will see a message with a suggestion to install JetPack. It is an optimization and security tool to make your site more secure and load faster. Fill free if you want to use it. I like it very much. There is a free version if you want to test. You can get it here.
Disclosure: Bear in mind that some of the links in this post are affiliate links and if you go through them to make a purchase I will earn a commission. Keep in mind that I link these companies and their products because of their quality and not because of the commission.