Top 25 Cheapest European Cities to Visit in 2020
Reading Time:
20
mins
Tourism is different for everyone: some used to stay in luxury hotels and relax on a wide foot, and someone likes budget options. If you want to see the maximum of interesting cities without spending a lot of money, then this guide will be great for you! I have collected for you 25 best cities in Europe, which can be visited for an affordable price.
Economic problems in many European countries make them an ideal choice for tourists from all over the world. Best cities for budget holidays in 2020:
1. Sofia, Bulgaria
Explore Sofia holidays and discover the best time and places to visit. Bulgaria's pleasingly laid-back capital is often overlooked by visitors heading to the coast.
Bulgaria's beautiful capital Sofia is located at the foot of the Vitosja mountain massif. The mountain has also given its name to the most prominent street with rows of swanky shops and a leafy park at one end. At Vitosja you go skiing in the winter and go in the forest in the summer. You get up with a funicular or chairlift.
The city is distinguished by its architectural mix of modern and historic buildings. Older landmarks include The Bojana Church, Alexander Nevsky Cathedral and the early Byzantine St. Sofia Church. More modern architecture can be seen at the Bulgarian National Opera, Ivan Vazov's National Theatre, Rakovski Street Theatre District and Natsionalen dvorets na kulturata (NDK), south-east Europe's largest cultural congress centre.
Currency: Lion ($1 = 1,75 lev)
Best Cheap Hostel: Hostel Mostel 11.45 leva/night
Transport: 2 levs
Food: 16.8 levs
Drinks/entertainment: 7.5 levs
Attractions: 6 levs
Minimum expenses per day: 44 leva ($24)
2. Krakow, Poland
Kraków is the second largest and one of the oldest cities in Poland. Situated on the Vistula River in the Lesser Poland region, the city dates back to the 7th century. Kraków has traditionally been one of the leading centres of Polish academic, cultural, and artistic life and is one of Poland's most important economic hubs. Indeed it was the capital of Poland from 1038 to 1569.
It's not that the city is full of historical world attractions or incomparable art museums. It's the city itself that's the thing. As the firestorms and waves of violence washed across Europe over the centuries, Krakow has managed to duck the worst. So there is still a beautiful, medieval city centre that you are more than happy to get lost in.
To this is to add the usual gritty cracked charm that Eastern European cities share with, for example, Cuba. This is that so much has fallen into disrepair but still stands. Sure, it's romanticizing. Of course, it's not fun for the people who live in the houses. But what a mood it will be anyway. As in the old Jewish quarter of Kazimierz where weathered facades now hide art galleries, restaurants and cafes.
Currency: zloty ($1 = 4 zloty)
Best Cheap Hostel: One World Hostel 34.15 zloty/night
Transport: 5.6 zloty
Food: 24 zlotys
Drinks/entertainment: 24 zlotys
Attractions: 16 zlotys
Minimum expenses for the day: 100 zloty ($25)
3. Bucharest, Romania
The world's biggest parliamentary building (and one of the largest buildings of any kind) happens to be in Bucharest. Whether one views the gargantuan Palace of Parliament as a folly and testament to the megalomania of former dictator Nicolae Ceaușescu or a display of Romanian materials and engineering skill (arguably both), it's a must-visit.
Bucharest is also commonly referred to as "New Berlin" and "Little Paris", but only nicknames fit a first glance at Bucharest. This is a fascinating city of contrasts with its own, unique, heart and atmosphere.
You can be completely enchanted if you only know where to look. Many of the sights are not included on the traditional tour guides to Bucharest or Romania, but are hidden surprises that the locals happily share – if you just ask.
You might stumble into a passage way and find yourself gazing up at a sky of colorful rainbow umbrellas. Or you can unexpectedly step into the most beautiful bookstore you've ever seen. Or maybe you'll see the whole town dancing with joy on the street on a Saturday night.
With so many communist quarters, Bucharest can seem like a very dull and grey city compared to other European cities. But it is also a big part of Bucharest's charm. You'll find beauty in the most unexpected places. Behind these bland facades is a world of colours, lovely green parks, creative cafés and elegant buildings.
Currency: lei ($1 = 4,35 lei)
Best Cheap Hostel: X Hostel Bucharest – 31.12 lei/night
Transport: 5 lei
Food: 45.6 lei
Drinks/entertainment: 15 lei
Attractions: 12 lei
Minimum expenses per day: 110 lei ($26)
4. Belgrade, Serbia
Belgrade ('White City') is by no means a 'pretty' capital, but its gritty exuberance makes it one of Europe's most happening cities.
Belgrade is still an undiscovered weekend city for many. The city is often referred to as the "new Berlin", but the wave of tourism that has washed over Prague and Budapest in recent years has so far not reached Belgrade.
Belgrade is still so extremely cheap. The price level cannot be compared. You can have a three-course dinner with a beverage with a cheap drink.
Another advantage that speaks out warmly for is safety and how quiet it is when you take your evening walks through the city center.
It's not a mess. The nightclubs are down by the water so they do not disturb anyone in town and it is not a fill as it can be a Friday or Saturday night elsewhere in Europe. People drink in moderation, socialize and have a good time. You don't have to see those gaping gangs walking along the streets.
Currency: dinar and euro
Best Cheap Hostel: Downtown Hostel Belgrade – 6 euros/night
Transport: 1.5 euros
Food: 9.6 euros
Drinks/entertainment: 4.5 euros
Attractions: 3 euros
Minimum expenses for the day: 25 euros ($26)
5. Budapest, Hungary
Hungary's capital city Budapest is actually made up of 3 unified cities, with Buda and Óbuda on the west bank of the Danube and Pest on the east bank. Much of the city has been granted UNESCO World Heritage Site status, and many visitors consider the city to be amongst the most beautiful cities in Europe.
Since the iron curtain went up in 1989 and Hungary's entry into the EU in 2004, Western culture has slowly crept into Budapest. But history is by no means forgotten. The giant bronze statues of Lenin, Marx and Engels that previously guarded budapesters around the city are now gathered in the Memento park, a 15-minute bus ride from the city. The Museum of Terror, which houses the former building of the security police in Pest, is also a historical memory from both the Communist and Nazi era.
But back to the present and to the city that wants a lot and has a lot to offer. Perhaps this is why the woman at the tourist office has difficulty answering the question of what should not be missed.
Currency: Forint ($1 = 310 forint)
Best Cheap Hostel: Treestyle Hostel – 1547 Forints/Night
Transport: 700 forints
Food: 3120 forints
Drinks/entertainment: 1050 forints
Attractions: 1500 forints
Minimum expenses per day: 7,900 forints ($27)
6. Sarajevo, Bosnia and Herzegovina
Sarajevo, capital and cultural centre of Bosnia and Herzegovina. It lies in the narrow valley of the Miljacka River at the foot of Mount Trebević. The city retains a strong Muslim character, having many mosques, wooden houses with ornate interiors, and the ancient Turkish marketplace.
Sarajevo puts your existence on the line and asks you who you are. In Sarajevo you are close to both laughter and tears every day. The people there have a very developed sense of humour that has helped them endure and survive all the misery of the time of the siege.
But beyond all jokes and the parodic view of (which the people of Sarajevo are good at) the events of the siege, tragedy and killing are found. More than 11,000 people died here under the age of 3.5, including 1600 children. Here, on average, 390 grenades were dropped every day for 3.5 years! Counting to 390 in 3.5 years would make you crazy, to hear so many explosions every day and all the tragedy that they bring with them is incomprehensible to most people. It was incomprehensible for the people of Sarajevo, too, but they had to cope with it.
Currency: convertible mark, euro
Best Cheap Hostel: Hostel Ljubicica – 5.84 euros/night
Transport: 3.6 euros
Food: 9.6 euros
Drinks/entertainment: 3.75 euros
Attractions: 4 euros
Minimum expenses per day: 27 euros ($29)
7. Kiev, Ukraine
Kiev, Ukraine, is a city on the brink of something magical. Plagued by its recent history and even its current events in the eastern part of Ukraine, Kiev is going through its adolescent years and the results are nothing short of inspiring. Whether you are into religious history, hip neighborhoods, or brutal architecture, Kiev will surprise you and leave you pining to book a return trip to witness the Ukrainian capital's newest developments.
In Kiev there is shopping, attractions, restaurants and nightlife, while being filled with that euphoric feeling of being abroad. For Kiev feels exotic. Here there is a concrete feeling that reminds of a bygone Soviet Union, while the city very much feels like part of a modern Western Europe. The small obstacles that sometimes arise from language bypass pay back twice when you finally make yourself understood in the shop or restaurant. Not everyone is good in English, but everyone is welcoming.
Currency: hryvnia (1$ = 27 hryvnia)
Best Cheap Hostel: Hostel Elements – 191 hryvnia/night
Transport: 8 hryvnia
Food: 354 hryvnias
Drinks/entertainment: 180 hryvnias
Attractions: 15 hryvnias
Minimum expenses per day: 750 hryvnia ($29)
8. Cheski Krumlov, Czech Republic
Český Krumlov, in Bohemia's deep south, is one of the most picturesque towns in Europe. It's a little like Prague in miniature – a Unesco World Heritage Site with a stunning castle above the Vltava River, an old town square, Renaissance and baroque architecture, and hordes of tourists milling through the streets – but all on a smaller scale; you can walk from one side of town to the other in 20 minutes.
When you go through the gate of the Cesky Krumlov in the Czech Republic, you have to pinch yourself in the arm. Is this really real? Isn't it perhaps the case that you stepped into a painting and ended up in a fairytale world? It could be a village in a Fantasy movie or a Disney story. But no, it really looks like this. This is real.
The Czech city of Cesky Krumlov is located in the south of the country and is a UNESCO World Heritage Site. The city centre has more than 300 protected buildings and a castle that is the second largest in the czech republic, after Prague Castle. The Vltava River encircles the inner part of the city and here people arrive on rubber boats and canoes.
Český Krumlov is full of cozy alleys and it is really hard not to shoot in every corner. There are lots of restaurants, cafes and small shops selling clothes and handicrafts. Feel free to check out Peter's short film for a little more feeling.
Currency: Krona ($1 = 24 krona)
Best Cheap Hostel: Travel Hostel – 247 kronor/night
Transport: 48 kronor
Food: 288 kronor
Drinks/entertainment: 90 kronor
Attractions: 100 kronor
Minimum expenses per day: 750 kronor ($30)
9. Warsaw, Poland
Warsaw is a city with a very tumultuous history. Once called "Paris of the East," this was one of Europe's most beautiful cities until it was flattened in World War II. Over the past decades, Warsaw has rebuilt itself, rising up from the ashes and emerging once again as one of Europe's great cities.
Warsaw is definitely one of Europe's most talked about big cities among weekend travelers with a track record. The city has long been overshadowed by its crowd-pleasing younger siblings Gdansk and Krakow.
Now it is the time of the Capital of Poland in the spotlight. A creative city where history often makes itself felt, which is in great contrast to the innovative (and also very affordable) restaurant offering and the young inhabitants' art installations.
Warsaw is a city you leave with the feeling that you will come back. Because even if the city is perfect for a weekend– a weekend is not long enough to discover all that Warsaw has to offer.
Currency: zloty ($1 = 4 zloty)
Best Cheap Hostel: Chillout Hostel – 38.06 zloty/night
Transport: 6.8 zloty
Food: 39.6 zloty
Drinks/entertainment: 24 zlotys
Attractions: 23 zlotys
Minimum expenses for the day: 130 zloty ($32)
10. Zagreb, Croatia
Zagreb is made for strolling. Wander through the Upper Town's red-roof and cobblestone glory, peppered with church spires. Crane your neck to see the domes and ornate upper-floor frippery of the Lower Town's mash-up of secessionist, neo-baroque and art deco buildings. Search out the grittier pockets of town where ugly-bland concrete walls have been transformed into colourful murals by local street artists. This city rewards those on foot.
Zagreb is best experienced outdoors, in one of the café bars in the promenades Bogovićeva and Tkalčićeva. There, the tables have been placed so close to each other that one does not know where one hook begins and the other ends. Saturdays are in Zagreb by tradition dedicated to the café bars' sacred carpentry, as the capital's residents start the day with a cup of coffee – and continue over the course of the hours to replace the javan with stronger drinks.
Feel free to sit down and speak and remember that the Zagreb people's soul is proud. Other than the nearly one million inhabitants who live in croatia's capital, zagreb's population is somewhat snooty. That's it. Although the city has gained a significant rank since the last days of the war, it was a cultural, political and scientific hub already in the Middle Ages and beyond, so perhaps the charming snobbery goes to excuse.
Zagreb's inhabitants are considered a bit snooty by other Croats, after all, the city was a cultural, political and scientific hub already in the Middle Ages and beyond, so perhaps the charming snobbery goes to excuse.
Currency: kuna ($1 = 7 kunas)
Best Cheap Hostel: Hostel Temza – 60.8 kunas/night
Transport: 20 kunas
Food: 84 kunas
Drinks/entertainment: 36 kunas
Attractions: 30 kunas
Minimum expenses per day: 230 kunas ($33)
11. Riga, Latvia
Home to Europe's biggest food market, its oldest zoo and its finest collection of art nouveau buildings, Riga is a city of little-known superlatives. Its compact center is a designated UNESCO World Heritage Site packed full of architectural treasures and there's plenty to explore on both sides of the river Daugava, including topnotch restaurants and buzzy creative quarters. Here are seven reasons to put this Baltic beauty on your bucket list.
Riga is a charming gem that has everything you could wish for; affordable shopping, good food, beautiful streets and cobbled alleys, outdoor cafes and cozy cafes. The Old Town is full of enchanting architecture and exciting secrets. Riga is sometimes called little Paris and is with us a real favorite.
One of our tips is to take the train to Jurmala, Latvia's premier health and beach resort during the summer. There are miles of wide and shallow sandy beaches. Jurmala town has beautiful houses, lush gardens, restaurants and shops.
Riga's old town is uniquely preserved with rich medieval architecture that bears witness to the city's rich historical heritage. The city has a strong character and offers a maze of alleys, pinnacles and towers. Walk-friendly is just the first name, pack your walking shoes and soak up Riga's atmosphere.
Currency: euro
Best Cheap Hostel: Central Hostel Riga – 8 euros/night
Transport: 2.3 euros
Food: 12 euros
Drinks/entertainment: 6 euros
Attractions: 3 euros
Minimum expenses for the day: 31 euros ($33)
12. Bratislava, Slovakia
Bratislava, with its compact old town, charming city streets, and outdoor café culture, is a wonderful place to visit. This city may not be as popular as other central European cities such as Vienna or Prague, but don't let that fool you. Bratislava is underrated as a European destination.
Bratislava is one of Europe's most charming and genuine capitals. The city has been an important part of several eras and it is full of historic buildings, many of them built already in the Middle Ages. Bratislava is a dream for all history and culture lovers, but also for the budget traveler and connoisseur thanks to a rich history, low prices and many good local beers, wines and spirits.
Bratislava is quite small in area and it is easy to get around between different sights. If you get tired of sightseeing, just choose a nice café or a pivovar and enjoy a pastry or a cold beer. Thanks to the city's young population, there is always life and movement in Bratislava.
If you want to indulge in a little extra and pamper yourself, Bratislava is a great option. Here you get a lot of value for money and you can find a luxury hotel with five stars for under a thousand.
Currency: euro
Best Cheap Hostel: A Wild Elephant's Hostel – 8 euros/night
Transport: 1.4 euros
Food: 12 euros
Drinks/entertainment: 6 euros
Attractions: 4 euros
Minimum expenses for the day: 31 euros ($33)
13. Vilnius, Lithuania
Lithuania's cool, compact capital is one of the driving forces behind the country's booming tourism industry. Boasting the largest medieval old town in central and eastern Europe, Vilnius is increasingly popular for its warming sense of history, bewitching architectural heritage and bustling cafe culture.
There is much to see and do in Vilnius. You can use an app called "Like a Local", where you get many great tips from. But otherwise you just have to walk the street up and down, so you see very many nice churches, squares, cozy streets and even a completely own republic Uzupio, where according to rumors you can even get a stamp in the passport. Also visit the KGB museum which is very poignant and interesting. Admission is only 2 Euro. It is very much to read and many rooms to visit, so be sure to have time.
Currency: euro
Best Cheap Hostel: Downtown Forest Hostel – 8 euros/night
Transport: 2 euros
Food: 13.2 euros
Drinks/entertainment: 6 euros
Attractions: 3 euros
Minimum expenses for the day: 32 euros ($34)
14. Istanbul, Turkey
Istanbul is one of the world's great cities. There are so many wonderful reasons why you should visit this city. Istanbul is old, dating back thousands of years, and with that, there are many historical places to visit. Istanbul is gorgeous, with its assortment of mosques and their colorful tile work and dramatic architecture. Istanbul is charming; so many welcoming, friendly people here. And finally, Istanbul is home to the Hagia Sophia, an amazing architectural feat and one of the Wonders of the World.
In the new part of Istanbul, the more trendy, there is good shopping, hip malls and modern restaurants. In the old part of the city, there are World Heritage culture and charming bazaars. Most historical sights are located here, including the Hagia Sofia with its famous dome, the Blue Mosque with its six minarets and one of the world's most fast-paced markets, the Grand Bazaar. In the old part of Istanbul you can easily get around on foot, alternatively by the cheap tram. Istanbul is a mecca of experiences, here you can get pampered in a Hamam, one of the steaming Turkish bathhouses, go on a boat trip across the Bosphorus or watch oriental show. Istanbul has something for all the senses and tastes.
Currency: lira ($1 = 7 lira)
Best Cheap Hostel: Istiklal Hostel 25.25 lira/night
Transport: 8 lira
Food: 31.2 liras
Drinks/entertainment: 24 liras
Attractions: 30 lira
Minimum expenses per day: $120 ($35)
15. Prague, Czech Republic
Prague, Czech Praha, city, capital of the Czech Republic. Lying at the heart of Europe, it is one of the continent's finest cities and the major Czech economic and cultural centre. The city has a rich architectural heritage that reflects both the uncertain currents of history in Bohemia and an urban life extending back more than 1,000 years.
The Vltava River flows precariously under ancient bridges, the old town attracts with alleys and centuries-old secrets, and at the height the mighty Prague Castle looms. Nice as a painting.
But the city has more to its advantage than just the look. It is still cheap to visit, the hotels are affordable and the restaurants serve well-prepared and good food at good prices. Here you can read more about restaurants in Prague.
Let's not forget the beer! Not only is the range of locally brewed beers large – and they taste fantastic – a beaker doesn't cost many ten.
One of the most booked attractions in Prague is the dinner cruise on the Vltava. There are several different organizers. Slightly more expensive than others, but also has more satisfied customers.
If you want to learn all about beer and find your way to Prague's best pubs and microbreweries, there's a really good guided beer tour as well.
Do you prefer to have the city explained to you in Swedish? Then there is this bus tour with Swedish audio guide. Another interesting experience, as many choose, is to take a day trip to the Concentration Camp Theresienstadt.
Currency: Krona ($1 = 24 krona)
Best Cheap Hostel: Czech Inn – 248 kronor/night
Transport: 48 kronor
Food: 372 kronor
Drinks/entertainment: 105 kronor
Attractions: 250 kronor
Minimum expenses per day: 1000 kronor ($40)
16. Split, Croatia
Split, the second largest city in Croatia, is a mix of modern life and ancient history. With ruins dating back to the Roman Empire, a bustling waterfront, and fresh seafood served daily at many of the restaurants in town, Split is well worth a visit on a tour through Croatia.
Split is Croatia's second largest city and it is located on the Dalmatian coast, also known as the Croatian Riviera. Here you can go on a charter holiday, but it is also a popular weekend destination.
The first thing to do in Split is to put on a pair of comfortable shoes and go exploring the small streets behind the harbour promenade. Here you can walk around for hours, it's like a beautiful maze. Part of this area is the nearly 2,000-year-old palace of the Roman Emperor Diokletian.
It is Split's most visited attraction, but also home to more than 3000 people. The palace is built of white marble and limestone, most of it coming from the island of Brac outside Splt. The same stone was also used to build the White House in Washington, D.C. Inside the palace you can see, among other things, two Egyptian sphinxes and St. Duje's Cathedral which is the oldest in the world, built in 305 AD.
Currency: kuna ($1 = 7 kunas)
Best Cheap Hostel: Hostel Split – 93 coons/night
Transport: 18 kunas
Food: 100.8 kunas
Drinks/entertainment: 42 kunas
Attractions: 40 kunas
Minimum expenses per day: 300 kunas ($42)
17. St. Petersburg, Russia
St. Petersburg, Russian Sankt-Peterburg, formerly (1914–24) Petrograd and (1924–91) Leningrad, city and port, extreme northwestern Russia. A major historical and cultural centre and an important port, St. Petersburg lies about 400 miles (640 km) northwest of Moscow and only about 7° south of the Arctic Circle. It is the second largest city of Russia and one of the world's major cities. St. Petersburg has played a vital role in Russian history since its founding in 1703.
St. Petersburg celebrated its 300th anniversary in 2003 and many of the historic buildings were renovated in connection with the great festival. In the centre of town, the sights are close by and it is easy to take advantage of the city's highlights on foot. The streets cross rivers and canals – walking around town is an experience in itself.
One of the absolute top attractions of St. Petersburg and a wet dream for every art lover. In the huge museum there are over three million different works of art in a fantastic environment – here lived the Tsarfamilies in the old Russian Empire. The address is Dvortsovaja plosjitjad 2.
The term "white nights" refers to the period May to August when the sun barely sets. Then there is lively activity throughout the city both during the day and at night. During the summer it is a great spectacle when the city's beautifully decorated and illuminated bridges open to boat traffic. This occurs at night, between 1.45 am and 5.45 am. Times vary from bridge to bridge, and anyone who wants to can see it all from a boat trip in the canal.
Currency: ruble ($1 = 70 ruble)
Best Cheap Hostel: Polosaty Hostel – 347 rubles/night
Transport: 70 rubles
Food: 1236 rubles
Drinks/entertainment: 600 rubles
Attractions: 400 rubles
Minimum expenses for the day: 2650 rubles ($42)
18. Santorini, Greece
Santorini is a windswept, volcanic island in the Cyclades. Magical sunsets in Oia, photogenic blue dome churches, and a myriad of colorful beaches attract thousands of visitors every year, making this one of Greece's most popular destinations.
On the volcanic island of Santorini, which took shape after a gigantic volcanic eruption several thousand years ago, steep cliffs descend into the sea, creating a dramatic atmosphere. At the same time, the white idyllic small villages, scattered throughout the island, create a mood of scenic beauty and an authentic Greece. In addition to being popular with lovers, the island – which has been called the world's most beautiful – is a popular destination for families with children, island drifters and young people who want a sun and beach holiday in beautiful surroundings.
Currency: euro
Best Cheap Hostel: Youth Hostel Anna – 8 euros/night
Transport: 3.2 euros
Food: 15.6 euros
Drinks/entertainment: 10.5 euros
Attractions: 3 euros
Minimum expenses for the day: 40 euros ($43)
19. Ljubljana, Slovenia
This town is colorful, it's lively, it's compact, it's very photogenic, and there are more dragons here than museums. This is the kind of city where it is simply fun to stroll and explore without a long list of attractions to visit.
A short walk from the heart of Ljubljana lies Metelkova, a former military area that has been under siege since 1993. In fact, it is not so dramatic, but a few years after Slovenia's independence from Yugoslavia, Metelkova was occupied by a cultural network and to this day the area serves as something of a sanctuary in the Slovenian capital.
Currency: euro
Best Cheap Hostel: Aladin Hostel – 12 euros/night
Transport: 2.4 euros
Food: 16.2 euros
Drinks/entertainment: 6 euros
Attractions: 5 euros
Minimum expenses for the day: 41 euros ($44)
20. Tallinn, Estonia
Tallinn is now a proud European capital with an allure all of its own. It's lively yet peaceful, absurdly photogenic and bursting with wonderful sights – ancient churches, medieval streetscapes and noble merchants' houses. Throw in delightful food and vibrant modern culture and it's no wonder Tallinn seems in danger of being loved to death, especially after a few cruise ships dock. But it's one of those blessed places that seems to cope with all the attention.
Tallinn is full of hip taverns as well as stunning historic buildings. In the district of Kalamaja to the old town. In our travel guide to Tallinn you will find the best tips for the hotels, spas, restaurants, bars, clubs, shopping and attractions that the city has to offer. This city guide to estonia's capital is indispensable for those who want to find the best shops, the best bars and restaurants that are up to scratch. Here you will find the perfect mix of old and new. Beautiful architecture, cosy parks and trendy cafes.
Currency: euro
Best Cheap Hostel: Old Town Alur Hostel – 11 euros/night
Transport: 2 euros
Food: 14.4 euros
Drinks/entertainment: 9 euros
Attractions: 6 euros
Minimum expenses for the day: 42 euros ($45)
21. Tenerife, Spain
Tenerife is the largest of the seven Canary Islands and also the most visited by tourists. With its stunning black and golden beaches, an active volcano, its unique ecological diversity (plants from all over the world can live and thrive in Tenerife's multiple climate zones), and its charming cliffside towns, it's no surprise that it's the most popular island of the group. Those beautiful features, plus the myriad of things you can do in Tenerife, make this island a destination worthy of a spot on your bucket list.
Tenerife belongs to Spain but is only 200 miles from the coast of Africa. The island is shaped like an iron facing the northeast, the capital Santa Cruz is located near the tip and the major tourist resorts in the southwest corner.
Although this is the largest of the 13 Canary Islands, it is no larger than one and a half Öland. The neighbouring islands of Gran Canaria (to the east) and La Gomera (to the west) are so close that you can see them in clear weather.
The seaside resorts in the south of Tenerife are so small that you can walk wherever you go. Along the beach there is a promenade where you can walk from Los Cristianos to Playa de las Américas and on to the smaller towns of San Eugenio, Fanabé and La Caleta. There are plenty of taxis but it can be difficult to give directions as some of the resorts lack street addresses.
Currency: euro
Best Cheap Hostel: Los Amigos Backpackers Hostel – 13 euros/night
Transport: 2.7 euros
Food: 14.4 euros
Drinks/entertainment: 7.5 euros
Attractions: 5 euros
Minimum expenses for the day: 42 euros ($45)
22. Athens, Greece
Athens is the historical capital of Europe, with a long history, dating from the first settlement in the Neolithic age. In the 5th Century BC (the "Golden Age of Pericles") – the culmination of Athens' long, fascinating history – the city's values and civilization acquired a universal significance. Over the years, a multitude of conquerors occupied Athens, and erected unique, splendid monuments – a rare historical palimpsest. In 1834, it became the capital of the modern Greek state and in two centuries since it has become an attractive modern metropolis with unrivalled charm.
Athens has over 3 million inhabitants and is a large city with many different areas and suburbs. It can sometimes be difficult to see where the boundaries are, but it's something that just makes the city even more inviting. Syntagma Square is what is called the center of the new Athens. The square is close to the parliament building and from here you can easily get by bus or metro.
Monastraki is one of the areas of Athens and there is also a square with metro station. Here you often change if you are going further down to the port of Piraeus. The area is full of traditional cafés, dilapidated 19th-century villas and last but not least athens' ancient market – agora.
If you are looking for a younger and hipper neighborhood, head to Exarhia. It is athens' student district and the atmosphere here is very relaxed, intellectual and artistic. There are many bookstores and a lot of cafes, taverns and clubs.
Currency: euro
Best Cheap Hostel: Hostel Zeus – 8 euros/night
Transport: 2.8 euros
Food: 19.2 euros
Drinks/entertainment: 7.5 euros
Attractions: 8 euros
Minimum expenses for the day: 45 euros ($49)
23. Lisbon, Portugal
Lisbon is the stunning capital city of Portugal, and is one of the most charismatic and vibrant cities of Europe. It is a city that effortlessly blends traditional heritage, with striking modernism and progressive thinking. As a holiday destination, Lisbon offers a rich and varied history, a buzzing nightlife and is blessed with a glorious year-round climate. This guide will provide an introduction to Lisbon, by answering some of the common holiday questions and providing links to further in-depth information.
Lisbon is built on seven hills and is sometimes called "The City of Seven Hills" precisely because of this. Portugal's capital breathes romance and bygone times and has long been popular with writers and artists. Climb on one of the iconic old trams and explore one of Western Europe's cheapest cities.
There is much to be found in Lisbon. Start by taking tram number 28 up to the old fortress of Castelo de Sao Jorge where you have nice views. In the nearby medieval alfama district you can walk in the narrow alleys. In contrast to the old architecture, those interested can visit the area where the World's Fair lasted until 1998. The area by the river is known as Parque das Nações and in addition to cool architecture there are also shopping and entertainment. Take the opportunity to visit the historic centre of Portugal's Belém district, including Torre de Belém and the World Heritage-listed Monastery of Mosteiro dos Jerónimos.
Currency: euro
Best Cheap Hostel: Urban Garden Hostel – 10.5 euros/night
Transport: 2.8 euros
Food: 16.8 euros
Drinks/entertainment: 9 euros
Attractions: 8 euros
Minimum expenses for the day: 47 euros ($50)
24. Moscow, Russia
Moscow city is a capital of Russia, located in the far western part of the country. Since it was first mentioned in the chronicles of 1147, Moscow has played a vital role in Russian history. It became the capital of Muscovy (the Grand Principality of Moscow) in the late 13th century; hence, the people of Moscow are known as Muscovites. Today Moscow is not only the political centre of Russia but also the country's most populous city and its industrial, cultural, scientific, and educational capital. For more than 600 years Moscow also has been the spiritual centre of the Russian Orthodox Church.
What to do in such a contrasty and complex city as Moscow depends understand sedive on how long you have at your disposal. A few must-haves along the way: Red Square, the Kremlin and all the enveaves of historic buildings. Eat a picnic in Gorky Park, or in winter go ice skating. Stroll around the Izmajlovi kitsch market, Moscow's largest open-air market. Eat a pierogi from a stall on the street and visit trendy nightclubs. Go to art museums and galleries, sit in a café and read the Moscow Times, swim a Russian sauna at the Sandunovsky Bath, walk the Bolshoi Theatre and cook unforgettable at Café Pushkin.
Currency: ruble ($1 = 70 ruble)
Best Cheap Hostel: Moscow Hostel – 446 rubles/night
Transport: 100 rubles
Food: 1416 rubles
Drinks/entertainment: 900 rubles
Attractions: 400 rubles
Minimum expenses per day: 3,300 rubles ($51)
25. Naples, Italy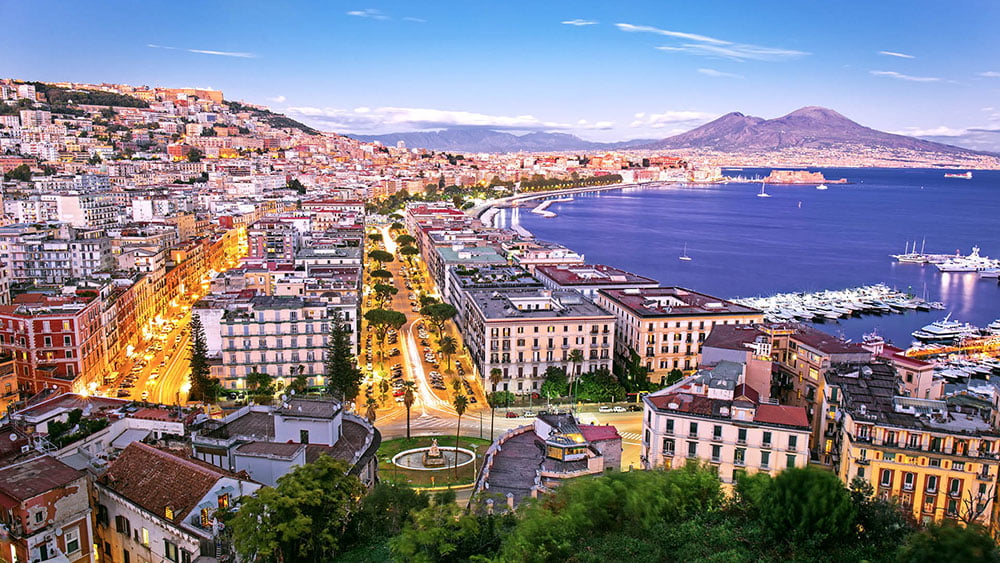 Naples is a vast city located on the western coast of Italy facing the Tyrrhenian Sea. This colossal metropolis is the third largest city in Italy behind Rome and Milan with a population of 975,000 and a greater metropolitan population of over 3.1 million. Naples and the surrounding region has been inhabited since the Neolithic period and it has seen some form of continuous human activity through ancient Greek times to the Roman Empire and further.
Naples turns into a natural state, like a big lung that breathes. Out on the street there is a jumble of people, scooters, children playing football in narrow alleys while the laundry hangs between the buildings and blows in the wind. The run-down facades hide wonderful treasures on the inside. But to us outsiders, everything seems at first to be a colorful chaos that feels difficult to decipher. If you've read Elena Ferrante's books, it feels very familiar. Colors. The laughter. Faces. Otherwise, it will take some day to adapt to naples' energy.
Currency: euro
Best Cheap Hostel: La Controra Hostel Naples – 17 euros/night
Transport: 2.6 euros
Food: 15.6 euros
Drinks/entertainment: 6 euros
Attractions: 9 euros
Minimum expenses per day: 50 euros ($52)